New model projects an increase in dust storms in the US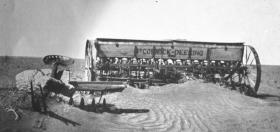 Could the storms that once engulfed the Great Plains in clouds of black dust in the 1930's once again wreak havoc in the U.S.? A new statistical model developed by researchers at Princeton University and the National Oceanic and Atmospheric Administration (NOAA) predicts that climate change will amplify dust activity in parts of the U.S. in the latter half of the 21st century, which may lead to the increased frequency of spectacular dust storms that have far-reaching impacts on public health and infrastructure.
The model, detailed in a study published July 17 in the journal Scientific Reports, eliminates some of the uncertainty found in previous dust activity models by using present-day satellite data such as dust optical depth, which measures to what extent dust particles block sunlight, as well as leafy green coverage over land and other factors.
"Few existing climate models have captured the magnitude and variability of dust across North America," said Bing Pu, the study's lead author and an associate research scholar in the Program in Atmospheric and Oceanic Sciences (AOS), a collaboration between Princeton and NOAA's Geophysical Fluid Dynamics Laboratory (GFDL).
Read more at Princeton University
Image: Drifting dust burying farm abandoned farm equipment. (Image courtesy of NOAA)