Power shift: University of Toronto researcher applies AI to monitor city's electrical grid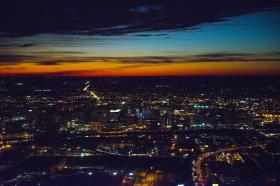 From indoor lighting to outdoor street lamps, our world is made brighter by artificial light. But the light that we perceive to be constant, actually fluctuates.
A University of Toronto computer scientist and researchers from the Technion-Israel Institute of Technology are studying electrical grids for cities, creating a camera that records the city's lights at a slower speed to get more accurate readings of changing voltages at particular locations.
The hope is that their research could help utility companies monitor how voltage shifts and propagates throughout the grid, partly to regulate it and partly to monitor any instability – like a blackout.
"Lights flicker because they are powered by alternating current, and by different phases of the electric grid," says University of Toronto department of computer science Professor Kyros Kutulakos. "With a camera, remotely, we can begin to observe a big part of the city, and its electrical phases."
Continue reading at University of Toronto.
Photo via University of Toronto.