Physical activity could combat fatigue, cognitive decline in cancer survivors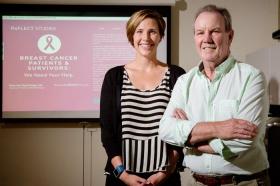 A new study indicates that cancer patients and survivors have a ready weapon against fatigue and "chemo brain": a brisk walk.
Researchers at the University of Illinois, along with collaborators at Digital Artefacts in Iowa City, Iowa, and Northeastern University in Boston, looked at the association between physical activity, fatigue and performance on cognitive tasks in nearly 300 breast cancer survivors.
"The data suggest that being more physically active could reduce two of the more commonly reported symptoms in breast cancer survivors: fatigue and cognitive impairment," said study leader Edward McAuley, a professor of kinesiology and community health at Illinois. "Most people think, 'If I exercise, I'll become tired.' In our study, exercise actually was associated with reduced fatigue, which in turn was associated with better cognitive function."
Cognitive impairment, such as memory problems or shortened attention spans, is a common complaint among cancer patients and survivors, and is thought to be similar to decline due to aging. Past Illinois research has explored the effect of physical fitness on age-related cognitive decline, so the researchers wondered whether cancer survivors would respond similarly to exercise.
Read more at University of Illinois at Urbana-Champaign
Image: Illinois postdoctoral researcher Diane Ehlers and professor Edward McAuley found that physical activity may have cognitive benefits for cancer survivors struggling with fatigue and 'chemo brain.' (Credit: L. Brian Stauffer)