On International Day, UN spotlights threatened coastal mangrove ecosystems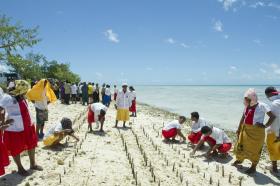 Coastal mangroves are among the most imperiled ecosystems on earth, with current estimates indicating that up to 67 per cent have been lost to date – according to the United Nations science wing.
"The stakes are high, because mangrove ecosystems provide benefits and services that are essential for life," said Irina Bokova, Director-General of the UN Educational, Scientific and Cultural Organization (UNESCO) in a message on the International Day for the Conservation of the Mangrove Ecosystem.
"From advancing food security, sustaining fisheries and forest products and offering protection from storms, tsunamis and sea level rise to preventing shoreline erosion, regulating coastal water quality and providing habitats for endangered marine species – the list is long on the importance of mangrove ecosystems," she added.
UNESCO shined a spotlight their unique role in sequestering and storing significant amounts of coastal blue carbon from the atmosphere and ocean – crucial for mitigating climate change.
While healthy mangrove ecosystems are vital, Ms. Bokova pointed out that "nearly all unprotected mangroves could perish over the next 100 years."
Continue reading at United Nations News Centre
Photo: Mangrove shoots being planted on Tarawa, an atoll in the Pacific island nation of Kiribati to protect against coastal erosion.
Credits: UN / Eskinder Debebe