Climate change to push Ethiopian coffee farming uphill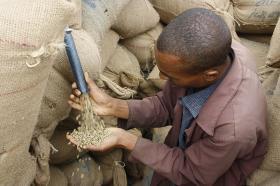 Relocating coffee areas, along with forestation and forest conservation, to higher altitudes to cope with climate change could increase Ethiopia's coffee farming area fourfold, a study predicts.
The study, published in Nature last month (19 June), suggests that moving Ethiopian coffee fields to higher ground because of climate change could increase resilience by substantially increasing the country's suitable production area.

Justin Moat, spatial analyst at the UK's Royal Botanic Gardens Kew, and lead author of the study, says that currently coffee farming is mainly confined to altitudes between 1200 and 2200 metres.
"In general, coffee's niche will move uphill to keep to optimal temperature," he tells SciDev.Net. "Much work would be needed to achieve this if planning starts now."
Read more at SciDev.Net
Photo credit: DFID - UK Department for International Development via Wikimedia Commons