Preterm Birth & Low Birth Weight Linked to Air Pollution Exposure Early in Pregnancy, Study Finds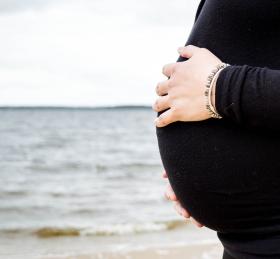 Exposure to air pollution early in a pregnancy could increase risk for preterm birth and low birth weight, according to a study led by researchers at NYU School of Medicine, and published on July 27 in Environmental Health Perspectives.
The study, conducted in mice, found that exposure to air pollution during the equivalent of the first or second trimester in humans was linked to more negative birth outcomes than exposure later in pregnancy.
Researchers studied the effects of fine particulate air pollution, which is made up of particles less than one ten-thousandth of an inch in diameter, or PM2.5. Inhalable and almost invisible to the eye, this type of pollution comes from car exhaust, coal-fired power plants, and other industrial processes. PM2.5 exposure has previously been linked to risk for asthma and heart disease.
According to the U.S. Centers for Disease Control and Prevention, preterm birth and low birth weight increase risk for vision and hearing problems, learning problems and even death.
Read more at NYU Langone Health / NYU School of Medicine
Photo credit: Laikipia via Pixabay