Rice U. scientists reel in structure of salmon virus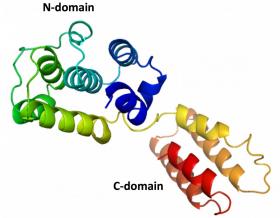 The structure of a protein key to the survival and spread of a virus that affects salmon could inform strategies to treat the flu in humans, according to scientists at Rice University.
The Rice lab of structural biologist Yizhi Jane Tao produced the first full-length structure of the matrix protein found in an orthomyxovirus that causes anemia in Atlantic salmon. Because the protein's structure and function are so similar to what has been found so far in influenza viruses, Tao expects they will be useful in determining the mechanisms of human viruses as well.
"This virus and all the influenza viruses belong to the same family, so they assemble in a very similar way," she said. "Although this protein is from a fish-infecting virus, it will give us insight as to how the matrix proteins support the assembly of other viruses."
The discovery is detailed this month in the Proceedings of the National Academy of Sciences.
Read more at Rice University
Image: The first complete structure of an M1 protein from an infectious salmon anemia virus, as revealed by scientists at Rice University. The structure of the protein, which forms a protective shield around the viral contents, is similar to that of influenza viruses that infect humans, but no structures for those have been produced that show both the N and C domains. (Credit: Tao Laboratory/Rice University)