Impact of giant Antarctic iceberg — update on Larsen-C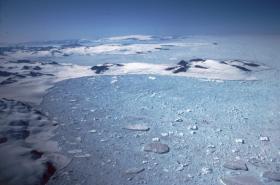 The largest remaining ice shelf on the Antarctic Peninsula lost 10% of its area when an iceberg four times the size of London broke free earlier this month.
Since the 12 July 2017 breakaway Dr Anna Hogg, from the University of Leeds, and Dr Hilmar Gudmundsson, from the British Antarctic Survey (BAS), have continued to track the iceberg – known as A68 – using the European Space Agency (ESA) and European Commission's Copernicus Sentinel-1 satellite.
Reporting this week in the journal Nature Climate Change Dr Hogg and Dr Gudmundsson examine the events leading up to this dramatic natural phenomenon and discuss how calving of huge icebergs affects the stability of Antarctic ice shelves. They assert that a calving event is not necessarily due to changes in environmental conditions and may simply reflect the natural growth and decay cycle of an ice shelf.
Their observations show that since the calving event, the berg has started to drift away from the Larsen-C, with open ocean clearly visible in the ~ 5 km gap between the berg and the ice shelf. A cluster of over 11 'smaller' icebergs have also now formed, the largest of which is over 13 km long! These 'bergy bits' have broken off both the giant iceberg and the remaining ice shelf.
Read more at British Antarctic Survey
Photo: Previous Larsen A ice shelf collapse 1994-5 (Credit: British Antarctic Survey)