Not all Glaciers in Antarctica Have Been Affected by Climate Change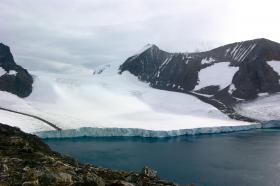 A new study by scientists at Portland State University and the National Snow and Ice Data Center (NSIDC) at the University of Colorado Boulder has found that the effects of climate change, which are apparent in other parts of the Antarctic continent, are not yet observed for glaciers in the western Ross Sea coast.
Published online ahead of print for the journal Geology, the study found that the pattern of glacier advance and retreat has not changed along the western Ross Sea coast, in contrast to the rapidly shrinking glaciers on the Antarctic Peninsula.
The western Ross Sea is a key region of Antarctica, home to a complex and diverse ocean ecosystem, and the location of several Antarctic research stations including the U.S. McMurdo Station, the largest on the continent.
The research team compiled historic maps and a variety of satellite images spanning the last half-century to examine glacier activity along more than 700 kilometers of coastline. The NASA-U.S. Geological Survey (USGS) Landsat series satellites were particularly useful, including the newest Landsat 8 instrument, launched in 2013.
Read more at Geological Society of America
Image: PaoMic via Wikimedia Commons