Early diagnostic imaging to prevent kidney disease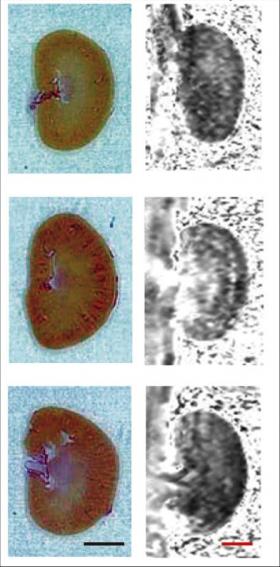 Osaka University researchers, in collaboration with several Japanese companies, translate neuroimaging tools to study renal fibrosis in rat kidney. The technique is expected to replace the invasive biopsies currently used to identify patients at risk of developing chronic kidney disease.
Diabetes patients are at a high risk of developing chronic kidney disease. To identify which patients have higher risk, non-invasive technologies such as MRI are useful because they can detect abnormal perfusion in the kidneys, which could be signs of renal fibrosis, which is an early sign of kidney failure.
"Diffusion tensor MRI (DTI) is ideal for detecting kidney damage, because the main functions of the kidney are all related to water movement," explains Osaka University Professor and Surgeon Shiro Takahara.
"DTI is used to image brain structures, because the diffusion of water in the white matter of the brain is anisotropic. Water diffusion in the kidney is also anisotropic," he continues.
Read more at Osaka University
Image: Visualization of renal fibrosis in fractional anisotropy (FA) maps. The left panels indicate Sirius Red staining (fibrosis) and the right panels stand for FA maps. (Credit: Osaka University)