UNH Researcher Develops Innovative Way to Understand Nature of an Entire Tiny Particle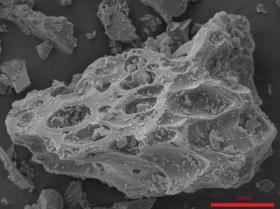 New research from the University of New Hampshire has led to the development of a novel technique to determine the surface area and volume of small particles, the size of a grain of sand or smaller. Due to their tiny size, irregular shape and limited viewing angle, commonly used microscopic imaging techniques cannot always capture the whole object's shape often leaving out valuable information that can be important in numerous areas of science, engineering and medicine.
The study, which was recently published in the journal Measurement Science and Technology, describes an inventive technique to mathematically estimate the extent of an object that is captured in 3-D models, and use the information to more accurately measure the entire object.
"Micro-scale 3D models are an important tool for many areas of science, but for most micro or nano-scale objects only a portion of the object can be seen in the field of view," says Gopala Mulukutla, a research scientist in the Institute for the Study of Earth, Oceans and Space at UNH and the study's lead author. "Due to the irregular shape of objects being studied, knowing the extent of the particle being imaged allows us to reasonably compute what was not seen in the model allowing for a more accurate assessment of properties such as surface area, and volume of the entire particle."
Read more at University of New Hampshire
Image: A series of closely aligned images are used to construct a 3-D model of the particle. Due to the complexity of reconstruction, imaging alone cannot capture the whole particle. (Credit: Mark Townley/UNH UIC)