Plants Love Microbes — And So Do Farmers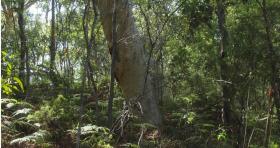 The Sunshine Coast's plant diversity has helped University of Queensland researchers confirm that nurture has the upper hand – at least when it comes to plant microbes.
Australian Centre for Ecogenomics director Professor Phil Hugenholtz said a study of microbial communities necessary for plant development, led by UQ's Yun Kit Yeoh, could improve crop and plant yields.
"Plants have evolved over 400 million years to provide favourable environments for microbes, which they host all over their bodies, from leaves to roots," said Professor Hugenholtz (pictured), of UQ's School of Chemistry and Molecular Biosciences.
Previous studies looking at the influence of microbial communities on their plant hosts had focused on model plants and crops, such as legumes and sugarcane, but not across a range of species.
Read more at University of Queensland
Image: Woodland in the Cooloola Dune Sequence near Rainbow beach. (Credit: Lui Weber)