Crank the AC, cut in-car pollution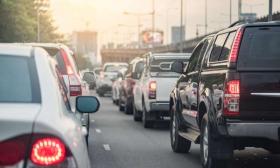 After conducting a new research approach using actual commutes, a group of engineers at Washington University in St. Louis discovered a simple shift in driving habits can help to reduce those risks while out on the road.
"We know that traffic generates a lot of pollution, and therefore it's the time when you're traveling in traffic that you can have a disproportionately high amount of your daily exposure to many harmful pollutants," said Anna Leavey, a research scientist at the School of Engineering and Applied Science. "What we wanted to see was: When and where are our highest exposures occurring, and how should one be driving to mitigate the risk?"
Leavey and Nathan Reed, a PhD candidate, worked together with PhD candidate Sameer Patel and Pratim Biswas, the Lucy and Stanley Lopata Professor and chair of the SEAS department of Energy, Environmental and Chemical Engineering. With assistance from Biswas's Aerosol and Air Quality Research Lab, they used portable instruments and sensors to monitor and simultaneously measure the pollutant levels of their car's indoor cabin air and the air directly outside of the car during their own daily commutes. That gave them rare, real-world look at pollutant exposure.
Continue reading at Washington University in St. Louis
Image Credit: Washington University in St. Louis