Preserving one of world's most endangered primate species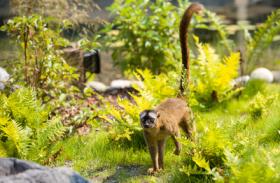 All day long, for five straight months, Sheila Holmes slipped through the Madagascar rainforest, 16,000 kilometres away from her Calgary university classes, eyes and feet following black-and-white ruffed lemurs as they flew through the trees.
Holmes was not your average tourist on this Indian Ocean island off the eastern coast of Africa. Instead, this University of Calgary student, who is now working on her anthropology doctorate, became a crucial part of what is the longest continuous monitoring program of one of the most endangered primate species in the world.
While Disney's animated Madagascar series turned lemurs into movie darlings, estimates are many of the 100-plus species could be totally extinct in several decades, with constant loss of rainforest to slash-and-burn agriculture and the hunting of "bush meat" by humans in the impoverished country.
Steig Johnson, associate professor in the University of Calgary's Department of Anthropology and Archaeology, has been part of Madagascar's community-based monitoring program — in collaboration with a local, independent non-government agency — from the start. What began as population research and education is now helping preserve the rainforest and its wildlife, while creating sustainable farming and eco-tourism jobs for the Malagasy. Volunteer monitors from around the world work with Madagascar-born technicians to track the "eco-engineer" lemurs whose seed-filled droppings are rehabilitating the environment.
Continue reading at University of Calgary.
Photo via University of Calgary.