Neonics Put Bumblebees at Risk of Extinction, Study Reveals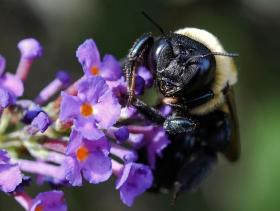 Bumblebees are less able to start colonies when exposed to a common neonicotinoid pesticide, according to a new University of Guelph study.
Prof. Nigel Raine has discovered that exposure to thiamethoxam reduces the chances of a bumblebee queen starting a new colony by more than one-quarter.
This study has garnered international media coverage with stories in The Globe and Mail, Toronto Star, CTV, Daily Mail and The Guardian as well as a number of others.
"Bumblebee queens that were exposed to the neonicotinoid were 26 per cent less likely to lay eggs to start a colony," said Raine, holder of the Rebanks Family Chair in Pollinator Conservation. "A reduction this big in the ability of queens to start new colonies significantly increases the chances that wild populations could go extinct."
Continue reading at University of Guelph.
Photo via University of Guelph.