NASA's Aqua Satellite spots Typhoon Hato's Landfall in China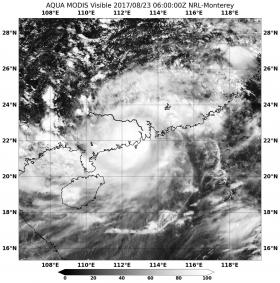 NASA's Aqua satellite passed over Typhoon Hato just hours after it made landfall in southeastern China.
Hato made landfall in mainland China around 0300 UTC on Aug. 23 (11 p.m. EDT on Aug. 22). China's weather service reported Hato's landfall occurred in the city of Zhuhai, in Guangdong province.
On Aug. 23 at 2 a.m. EDT (0600 UTC) the Moderate Resolution Imaging Spectroradiometer or MODIS instrument aboard NASA's Aqua satellite captured a visible image of Hato just three hours after the center of the storm made landfall just west of Hong Kong. The image showed powerful thunderstorms surrounding the center of circulation. In the image the southeastern quadrant of the storm was still over the South China Sea.
Read more at NASA/Goddard Space Flight Center
Image: On Aug. 23 at 2 a.m. EDT (0600 UTC NASA's Aqua satellite captured a visible image of Typhoon Hato three hours after it made landfall in southeastern China. (Credit: NASA Goddard MODIS Rapid Response Team)