NOAA scientists set sail on Coast Guard icebreaker to measure change in the Arctic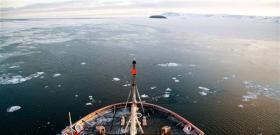 On Friday, August 25, U.S. Coast Guard Cutter Healy will sail from Dutch Harbor, Alaska, with a team of NOAA scientists and collaborators on a 22-day cruise to study environmental change in the western Arctic Ocean.
Scientists will track ecosystem responses to rapidly changing environmental conditions such as sea ice decline, ocean acidification and rising air and water temperature, as the ship travels north through the Bering, Chukchi and Beaufort seas.
"We may be aboard an icebreaker, but we're not likely to see much sea ice this summer and early fall," said Jeremy Mathis, director of NOAA's Arctic Research Program and lead NOAA scientist on the cruise. "Our goal is to bring back actionable environmental intelligence from this fast-changing region."
The Healy will follow a course along the Distributed Biological Observatory (DBO), an array of observational buoys, unmanned systems and other tools that collect observations at hot spots chosen because of high productivity of marine life and previously recorded rapid change.
Continue reading at NOAA.
Photo via NOAA.