Study negates concerns regarding radioactivity in migratory seafood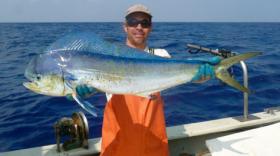 When the Fukushima power plant released large quantities of radioactive materials into nearby coastal waters following Japan's massive 2011 earthquake and tsunami, it raised concerns as to whether eating contaminated seafood might impair human health—not just locally but across the Pacific.
A new study by an international research team shows that those concerns can now be laid to rest, at least for consumption of meat from migratory marine predators such as tuna, swordfish, and sharks.
The team focused on cesium, a silvery metal with a large number of radioactive isotopes. Two of these, 134Cs and 137Cs, form when uranium fuel breaks down in nuclear reactors. The cesium isotopes are of particular concern because they were discharged in large quantities following the disaster, exhibit relatively long half-lives (2.1 and 30 years respectively), and tend to accumulate in the muscle tissues that people like to eat.
Continue reading at Virginia Institute of Marine Science
Photo: VIMS assistant professor Kevin Weng with a dolphinfish or mahi-mahi (Coryphaena hippurus) collected as part of the study of Fukushima-derived radioactivity in large Pacific Ocean predators.
© A. Gray aboard FV Aoshibi IV.