Can corals survive climate change?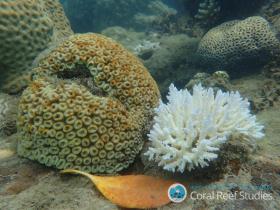 A group of international scientists, including scientists from Australia, have issued advice that more research is urgently required to determine whether corals can acclimatise* and adapt to the rapid pace of climate change.
The team of coral experts, led by Dr. Gergely Torda from the ARC Centre of Excellence for Coral Reef Studies (Coral CoE) at James Cook University and the Australian Institute of Marine Science (AIMS), have delivered recommendations for future research.
As the Great Barrier Reef faces unprecedented coral mortality from back-to-back mass bleaching in 2016 & 2017, rising carbon dioxide and other natural and human-induced pressures, scientists advise more research is urgently needed into the poorly-understood mechanisms that corals might use to survive in a rapidly warming world.
"There is still a lot to understand about corals," says Dr. Torda. "While our only real chance for their survival is to reverse climate change, a nugget of hope exists – that the corals may be able to adapt to their changing environment," he says.
Read more at ARC Centre of Excellence for Coral Reef Studies
Image: There is substantial variability in temperature tolerance among and within coral species. Typically, boulder-like corals survive higher temperatures, while branching corals perish under moderate heat stress. Scientists are striving to understand and harness the molecular mechanisms that underpin this variability. Central GBR, March 2017. (Credit: G. Torda)