Study: Drug may curb female infertility from cancer treatments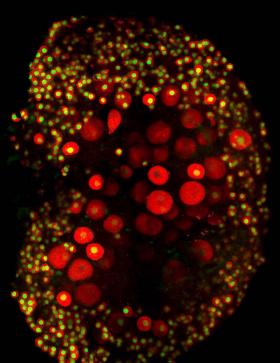 An existing drug may one day protect premenopausal women from life-altering infertility that commonly follows cancer treatments, according to a new study.
Women who are treated for cancer with radiation or certain chemotherapy drugs are commonly rendered sterile. According to a 2006 study from Weill Cornell Medicine, nearly 40 percent of all female breast cancer survivors experience premature ovarian failure, in which they lose normal function of their ovaries and often become infertile.
Women are born with a lifetime reserve of oocytes, or immature eggs, but those oocytes are among the most sensitive cells in the body and may be wiped out by such cancer treatments.
The current study, published Aug. 1 in the journal Genetics, was led by John Schimenti, Cornell's James Law Professor of Genetics in the Departments of Biomedical Sciences and Molecular Biology and Genetics. It builds on his 2014 research that identified a so-called checkpoint protein (CHK2) that becomes activated when oocytes are damaged by radiation.
Read more at Cornell University
Image: The image shows a mouse ovary with proteins specific to oocytes labelled in red and yellow. The study reports that culturing such ovaries in the presence of a drug that inhibits DNA damage checkpoint enzymes protects the oocytes from lethal levels of radiation that would normally kill the entire oocyte reserve (small oocytes in picture). (Credit: Schimenti Lab, Cornell University)