Massive Antarctic Volcanic Eruptions Triggered Abrupt Southern Hemisphere Climate Changes Near the End of the Last Ice Age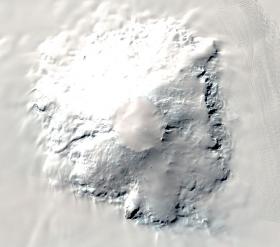 New findings published today in the Proceedings of the National Academy of Sciences of the United States of America (PNAS) by Desert Research Institute (DRI) Professor Joseph R. McConnell, Ph.D., and colleagues document a 192-year series of volcanic eruptions in Antarctica that coincided with accelerated deglaciation about 17,700 years ago.
"These massive, halogen-rich eruptions from Mt. Takahe in West Antarctica coincided exactly with the onset of the most rapid, widespread climate change in the Southern Hemisphere during the end of the last ice age and the start of increasing global greenhouse gas concentrations," according to McConnell, who leads DRI's ultra-trace chemical ice core analytical laboratory.
"We postulate that these halogen-rich eruptions created a stratospheric ozone hole over Antarctica that, analogous to the modern ozone hole, led to large-scale changes in atmospheric circulation and hydroclimate throughout the Southern Hemisphere." he added. "We argue that these changes triggered the shift from a largely glacial to a largely interglacial climate state."
Continue reading at University of Copenhagen
Photo: A 15-meter pan-sharpened Landsat 8 image of the Mount Takahe volcano rising more than 2,000 meters (1.2 miles) above the surrounding West Antarctic ice sheet in Marie Byrd Land, West Antarctica.
Photo Credit – Landsat Image Mosaic of Antarctica (LIMA). USGS and NASA, LIMA Viewer, https://lima.gsfc.nasa.gov/. Image Date: March 4, 2015