URI researcher says invasive plants change ecosystems from the bottom up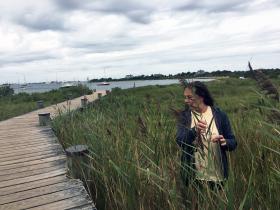 In a common garden at the University of Rhode Island, Laura Meyerson has been growing specimens of Phragmites – also known as the common reed – that she has collected from around the world. And while they are all the same species, each plant lineage exhibits unique traits.
Now Meyerson, a professor of natural resources sciences, and Northeastern University Professor Jennifer Bowen have revealed that even when two different lineages grow side-by-side in the same ecosystem, the bacterial communities in the soil differ dramatically. It's a discovery that will aid in understanding how plant invasions succeed and the conditions necessary for their success.
"It's almost like the different lineages are farming their own microbial communities," said Meyerson. "What's amazing is that an invasive Phragmites population in Rhode Island and California will have microbial communities more similar than a native and invasive population living right next to each other in Rhode Island."
Continue reading at University of Rhode Island
Photo: URI Professor Laura Meyerson investigates Phragmites at a marsh on Block Island as part of her research. (Photo courtesy of Laura Meyerson)