Team gathers unprecedented data on atmosphere's organic chemistry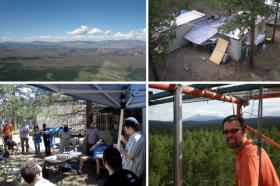 For a few weeks over the summer in 2011, teams of scientists from around the world converged on a small patch of ponderosa pine forest in Colorado to carry out one of the most detailed, extended survey of atmospheric chemistry ever attempted in one place, in many cases using new measurement devices created especially for this project. Now, after years of analysis, their comprehensive synthesis of the findings have been released this week.
The teams, which included a group from MIT using a newly-developed device to identify and quantify compounds of carbon, reported their combined results in a paper in the journal Nature Geoscience. Jesse Kroll, MIT associate professor of civil and environmental engineering and of chemical engineering, and James Hunter, an MIT technical instructor in the Department of Materials Science and Engineering who was a doctoral student in Kroll's group at the time of the research, were senior author and lead author, respectively, of the 24 contributors to the report. Associate Professor Colette Heald of the Department of Civil and Environmental Engineering and the Department of Earth, Atmospheric and Planetary Sciences was also a co-author.
The organic (carbon-containing) compounds they studied in that patch of Colorado forest play a key role in atmospheric chemical processes that can affect air quality, the health of the ecosystem, and the climate itself. Yet many of these processes remain poorly understood in their real-world complexity, and they had never been so rigorously sampled, studied, and quantified in one place before.
Read more at Massachusetts Institute of Technology (MIT)
Photos: Douglas Day, Alex Huffman, and Jose Jimenez. Credits: MIT