NASA Sees Hurricane Irma Affecting South Florida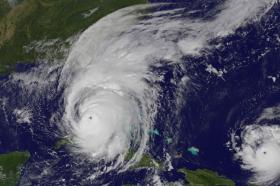 As Hurricane Irma approached southern Florida, a NASA satellite captured a night-time image of the storm in the Florida Straits and identified where the strongest storms were occurring within Irma's structure. NOAA's GOES satellite provided a visible image at the time of Irma's landfall in the Florida Keys.
As Irma moved along the coast of Cuba, the storm weakened to a Category 3 Hurricane on the Saffir-Simpson Hurricane Wind Scale. After moving away from the northern coast of Cuba, Irma passed over waters that are warmer than 30 degrees Celsius (86 degrees Fahrenheit). Those warm waters enabled the storm to re-strengthen from a Category 3 hurricane to a Category 4 hurricane.
On Sept. 10, at 3:38 a.m. EDT (0738 UTC) the Visible Infrared Imaging Radiometer Suite (VIIRS) instrument aboard NASA-NOAA's Suomi NPP satellite captured an infrared view of Irma at night as it moved north from the northern coast of Cuba toward the Florida Keys. The image revealed that Irma's eye had become clear again. The image also showed the city lights in the southeastern U.S.
Continue reading at NASA / Goddard Space Flight Center
Image: This visible image of Category 4 Hurricane Irma was taken on Sunday Sept.10, 2017 at 9:25 a.m. EDT (1325 UTC) by the NOAA GOES East satellite as its eye approached the southwestern coast of Florida. Hurricane Jose is seen (right) near the Leeward Islands.
Credits: NASA / NOAA GOES Project