NASA Tracking Tropical Storm Talim in Philippine Sea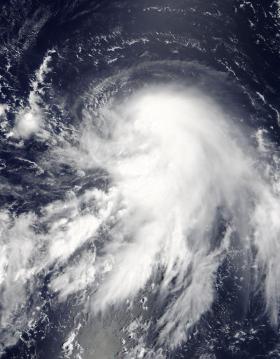 NASA's Terra satellite passed over Tropical Storm Talim early on Sept. 11 and obtained a visible-light image of the storm as it moved through the Philippine Sea.
Tropical Depression 20W formed on Sept. 8 about 118 miles east of Andersen Air Force Base, Guam. By Sept. 9 at 11 a.m. EDT, the depression strengthened into a tropical storm and was renamed Talim.
On Sept. 11 at 01:45 UTC (Sept. 10 at 9:45 p.m. EDT) the Moderate Resolution Imaging Spectroradiometer or MODIS instrument aboard NASA's Terra satellite captured a visible-light image of Talim. The image showed a concentration of strong thunderstorms around the low-level center of circulation with feeder bands of thunderstorms from the northeast and southwest spiraling into the center.
Read more at NASA/Goddard Space Flight Center
Image: On Sept. 11 at 01:45 UTC (Sept. 10 at 9:45 p.m. EDT) the MODIS instrument aboard NASA's Terra satellite provided this visible image of Tropical Storm Talim in the Philippine Sea. (Credit: NASA Goddard MODIS Rapid Response Team)