Urban Climate Change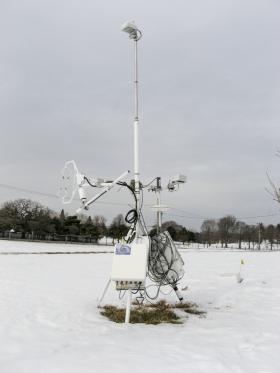 Southern cities such as Houston and Tampa — which faced the wrath of hurricanes Harvey and Irma, respectively — may not be the only urban environments vulnerable to extreme weather. Northern cities also face the potential for flooding as global temperatures continue to warm.
In fact, higher temperatures have been found to disproportionately affect northern land areas, particularly the Arctic, which has already experienced fallout from climate change.
A new study by a group of international researchers, including UC Santa Barbara's Joe McFadden, combines observations and modeling to assess the impact of climate and urbanization on the hydrological cycle across the distinct seasons in four cold climate cities in Europe and North America. Their findings appear in the journal Scientific Reports.
Continue reading at University of California - Santa Barbara
Photo: Instruments use to continuously measure evaporation, weather variables at a suburban site in Minneapolis-Saint Paul. Photo Credit: Joe Mcfadden