Mathematics predicts a sixth mass extinction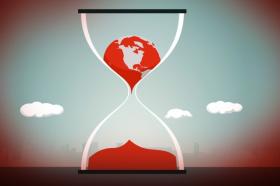 In the past 540 million years, the Earth has endured five mass extinction events, each involving processes that upended the normal cycling of carbon through the atmosphere and oceans. These globally fatal perturbations in carbon each unfolded over thousands to millions of years, and are coincident with the widespread extermination of marine species around the world.
The question for many scientists is whether the carbon cycle is now experiencing a significant jolt that could tip the planet toward a sixth mass extinction. In the modern era, carbon dioxide emissions have risen steadily since the 19th century, but deciphering whether this recent spike in carbon could lead to mass extinction has been challenging. That's mainly because it's difficult to relate ancient carbon anomalies, occurring over thousands to millions of years, to today's disruptions, which have taken place over just a little more than a century.
Now Daniel Rothman, professor of geophysics in the MIT Department of Earth, Atmospheric and Planetary Sciences and co-director of MIT's Lorenz Center, has analyzed significant changes in the carbon cycle over the last 540 million years, including the five mass extinction events. He has identified "thresholds of catastrophe" in the carbon cycle that, if exceeded, would lead to an unstable environment, and ultimately, mass extinction.
Read more at Massachusetts Institute of Technology (MIT)
Image via MIT