Gravity Waves Influence Weather and Climate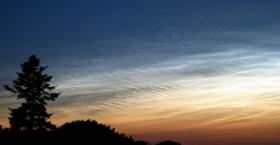 Although gravity waves have comparatively short wavelengths of between just a few hundred metres and several hundred kilometres, at times they influence the transport of water vapour as well as large-scale winds and temperature distributions to a considerable degree. This effect is strongest in the upper layers of the atmosphere. These, in turn, have such a strong effect on the lower layers too that a realistic modelling of weather and climate in the atmosphere is impossible without giving due consideration to gravity waves. Gravity waves also play a significant role for air traffic in predicting turbulence and are an important factor in weather extremes, such as heavy rain or storms.
Continue reading at Goethe Universitat.
Image Credit: Copyright Dr. Gerd Baumgarten