Study Shows Diet and Exercise Improve Treatment Outcomes for Obese Pediatric Cancer Patients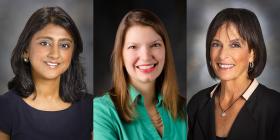 Diet and exercise may improve treatment outcomes in pediatric cancer patients, according to a study at The University of Texas MD Anderson Children's Cancer Hospital.
The findings, published in the September 13 online issue of Pediatrics Research, also revealed that diet and exercise have strong potential to improve chemotherapy effectiveness and reduces the risk of late effects in pediatric cancer patients. This discovery propels the need for more work to determine how energy balance – a combination of diet and exercise – can be implemented effectively during treatment to manage or treat obesity.
The researchers reviewed 67 studies including 32 novel clinical trials in pediatric patients, and data from a variety of cohorts with pediatric patients diagnosed with different cancers, including patients with acute lymphoblastic leukemia (ALL), rhabdomyosarcoma and brain tumors. The cellular mechanisms by which energy balance impacts tumor growth was also highlighted.
The relationship between diet and exercise and its positive effects on treatment outcomes in obese cancer patients has sparked interest for quite some time, but for pediatric patients, the research has been limited.
Read more at University of Texas M. D. Anderson Cancer Center
Image: This is Joya Chandra, Ph.D., Keri Schadler, Ph.D., and Eugenie Kleinerman, M.D. (Credit: MD Anderson Cancer Center)