Sustainable Engineering Solutions for Water and Energy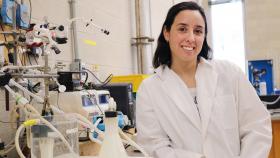 Onita Basu still vividly remembers the exact moment she decided to devote her career to sustainable water solutions and practices.
"I was in a second-year Chemical Engineering lab working with a solution of water that looked relatively clean," she recalls. "When I passed the water through a treatment process I was shocked to see an incredible amount of dissolved copper emerge from the solution and begin coating onto various surfaces. It was an eye-opening experience to realize that we cannot always tell what is in our water."
Now an Environmental Engineering professor and Associate Chair of Graduate Studies in Carleton's Department of Civil and Environmental Engineering, Basu still believes that startling realization hasn't lost its impact.
"The pressure that is placed on our natural resources has never been greater than it is today," she says. "The more people we have on our planet, the more difficult it becomes to manage the health of our water systems."
Continue reading at Carleton University.
Photo via Carleton University.