Some marine species more vulnerable to climate change than others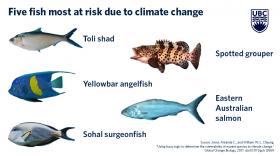 Certain marine species will fare much worse than others as they become more vulnerable to the effects of climate change, a new UBC study has found.
After analyzing the biological characteristics of 1,074 marine fish and shellfish, the study identified 294 species that are most at-risk due to climate change by 2050. Species most at-risk include the Eastern Australian salmon, yellowbar angelfish, toli shad, sohal surgeonfish and spotted grouper.
"We hope that this study will highlight the marine species that are most in need of management and conservation actions under climate change," said William Cheung, associate professor in the Institute for the Oceans and Fisheries and director of science for the Nippon Foundation – UBC Nereus Program.
As part of the study, UBC researchers created a database that examines the long-term vulnerability of marine species that are important to fisheries around the world. The database was developed with an approach that uses "fuzzy logic" to combine information about the biological sensitivity of these species to environmental changes as well as their projected exposure to changes in the ocean including temperature and oxygen and acidity levels.
Read more at University of British Columbia
Image Credit: University of British Columbia