Non-Native Species From Japanese Tsunami Aided by Unlikely Partner: Plastics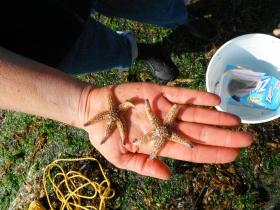 A new study appearing this week in Science reports the discovery of a startling new role of plastic marine debris -- the transport of non-native species in the world's oceans.
Co-authored by Oregon State University marine scientists John Chapman and Jessica Miller, the study also suggests that expanded coastal urbanization and storm activity, including the recent hurricanes and floods around the world, as well as predicted future enhanced storm activity due to climate change, could mean that the role of marine debris as a novel vector for invasive species may be increasing dramatically.
Between 2012 and 2017, scientists documented nearly 300 species of marine animals arriving alive in North America and Hawaii on hundreds of vessels, buoys, crates, and many other objects released into the ocean by the Japanese earthquake and tsunami of March 2011.
Unexpected was that coastal species from Japan would not only survive the trip through the hostile environment of the open North Pacific Ocean, but continue to survive for many years -- four or more years longer than any previous observations of species found living on what are called "ocean rafts."
Read more at Oregon State University
Image: This is an Asian amur sea star (Asterias amurensis) found on the Oregon Coast by Oregon State University scientists following the 2011 Japanese earthquake and tsunami. (Credit: Oregon State University)