Red Sea Gene Pool Follows Water Flow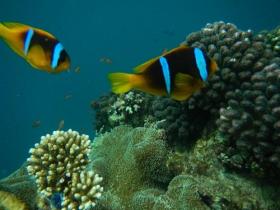 A collaboration between KAUST and several UK institutes has revealed that surface currents are important pathways for gene flow in the Red Sea, a finding which will help guide marine management programs.
The team, led by KAUST Professor Ibrahim Hoteit, combined satellite imagery and simulations to explore the role of currents in the Red Sea biosphere. Coral communities are relatively homogenous throughout most of the Red Sea, although a genetic break separates the southern communities.
The team used satellite measurements of the color and height of Red Sea surface waters to infer current flows. By estimating chlorophyll concentrations from the color data, they also determined which currents were able to carry biological material. Their analysis identified significant variability in Red Sea eddies which could facilitate transport and dispersal throughout the whole basin.
Building on their findings, the team simulated how these currents would disperse particles through the Red Sea. By calculating connectivity values between different sites, they showed that the central Red Sea is quite well connected to the rest of the basin, while the southern region is the least connected.
Read more at King Abdullah University of Science & Technology (KAUST)
Image: Clownfish in the Red Sea on a reef near Jeddah. (Credit: © 2017 Ibrahim Hoteit)