New climate change tool will help keep Canadians safe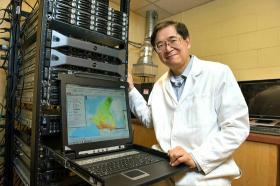 Researchers at the University of Regina have recently launched a new climate change tool designed to help project future climate changes.
The tool, called the Canada Climate Change Data Portal (CCCDP), was developed by researchers in the University of Regina's Institute for Energy Environment and Sustainable Communities (IEESC).
Dr. Gordon Huang, executive director of the IEESC and professor in the Faculty of Engineering and Applied Science, says this GIS and web-based data portal is the first coordinated effort for projecting climate change in Canada using high-resolution regional climate simulations.
According to Huang, this free, easy-to-use data portal is a one-stop-shop for government, academia, non-governmental organizations and the private sector to access information needed to enhance community resilience and to mitigate and prevent disasters, such as floods, droughts, forest fires and winter storms.
Continue reading at University of Regina.
Photo via University of Regina.