Air Pollution Cuts Solar Energy Potential in China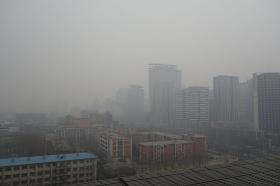 China is rapidly expanding its solar power supply, hoping to meet 10 percent of the nation's electricity needs with solar energy by 2030. But there's a problem: Severe air pollution is blocking light from the sun, significantly reducing China's output of solar energy, particularly in the northern and eastern parts of the country.
This issue is worst in the winter, when — according to research from Princeton University — air pollution in these regions blocks about 20 percent of sunlight from reaching solar panel arrays, on average. That makes air pollution's wintertime effect on solar energy production as significant as that of clouds, which have long been considered the main impediment to solar energy production.
Published in the Proceedings of the National Academy of Sciences, the study shows that in the most polluted areas of northern and eastern China, aerosol pollution is reducing the potential for solar electricity generation by as much as one and a half kilowatt-hour per square meter per day, or up to 35 percent. That's enough to power a vacuum cleaner for one hour, wash 12 pounds of laundry or work on a laptop for five to 10 hours.
Burning fossil fuels increases aerosol concentrations in the atmosphere. Other researchers have recognized that these aerosols, which include sulfate, nitrate, black carbon particulates and brown organic compounds, are contributing to solar dimming over large parts of China. But no previous research had calculated just how much aerosols in the atmosphere are reducing China's solar energy generating efficiency.
Read more at Princeton University, Woodrow Wilson School of Public and International Affairs
Photo credit: Kentaro IEMOTO via Wikimedia Commons