Veterinary medicine researcher uses genomic technology to battle a costly cattle parasite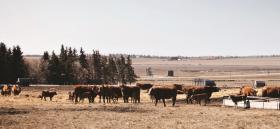 A researcher in the University of Calgary Faculty of Veterinary Medicine (UCVM) is using genomic technology in the search for a drug to fight a parasite that costs the cattle industry worldwide billions of dollars a year.
"One aspect of my research program is to develop new drugs to treat parasites of livestock and specifically helminths — parasitic roundworms — which cost the Canadian cattle industry an estimated $210 million a year," says James Wasmuth, associate professor of host-parasite interactions at UCVM. "This is in lost production as well as treatment. The cost in the U.S. is around $2 billion, and in Brazil it's a $7 billion-a-year problem for their beef industry."
Helminths live inside the intestines of cattle, feeding off their 'hosts,' causing reduced growth rate, weight loss, diarrhea and sometimes anaemia. These soil-transmitted parasites are common in grazing cattle but there are only a few drugs that work to combat them.
"We're seeing the emergence of parasites that are resistant to these drugs," says Wasmuth. "At some point these drugs are going to be ineffective and when that happens, the estimated cost to the Canadian cattle industry is $1 billion, which is a pretty big problem."
Continue reading at University of Calgary.
Photo via University of Calgary.