Thinking Small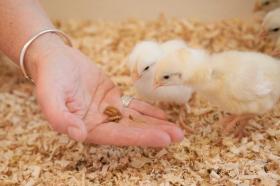 As eureka moments go, it didn't entirely follow the script.
There was the flash of inspiration and a flush of excitement when a check of the literature showed that, yes, this could be the real deal.
But Fiona Buchanan's exhilarating news wasn't immediately embraced.
"I told my lab manager Kayla Madder, 'We're going to get into mealworms' and she said, 'Oh no, we're not,'" recalled the University of Saskatchewan professor.
Continue reading at University of Saskatchewan.
Photo via University of Saskatchewan.