NASA Sees Damrey Strengthen into a Typhoon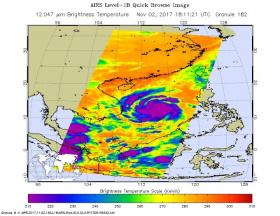 NASA's Aqua satellite and the NASA-NOAA Suomi NPP satellite provided imagery of Damrey as it strengthened into a typhoon in the South China Sea.
The Atmospheric Infrared Sounder or AIRS instrument aboard NASA's Aqua satellite captured temperature data of Typhoon Damrey's clouds on Nov. 2 at 1811 UTC (2:11 p.m. EDT). AIRS found that coldest cloud tops were as cold as or colder than minus 63 degrees Fahrenheit or minus 53 degrees Celsius which are indicative of strong storms. NASA research has shown that storms with cloud tops that cold have the capability to generate heavy rainfall.
On Nov 3, 2017 at 1:06 a.m. EDT (0506 UTC) the VIIRS instrument aboard NASA-NOAA's Suomi NPP satellite captured a visible image of Typhoon Damrey approaching Vietnam. The image revealed spiral bands of thunderstorms surrounding the low-level center and the hint of an eye.
Damrey is in a favorable area for strengthening with low vertical wind shear and is tracking through and area of warm sea surface temperatures.
Read more at NASA/Goddard Space Flight Center
Image: The AIRS instrument aboard NASA's Aqua satellite captured temperature data of Typhoon Damrey's clouds on Nov. 2 at 1811 UTC (2:11 p.m. EDT). Coldest cloud tops (purple) were as cold as or colder than -63F (-53C). (Credits: NASA JPL, Ed Olsen)