Biochemist to study how proteins contribute to neurodegenerative diseases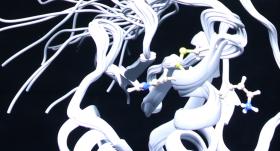 Bulent Mutus is a micro mechanic.
But instead of fixing cars with wrenches and grease, the biochemist rolls up his sleeves and chops up and rebuilds proteins using microscopes and Petri dishes.
"If this enzyme were a car we would know where the engine is, but now we are looking at turning that engine off so the pathology will go away," the UWindsor professor said.
Dr. Mutus recently received a $200,000 Discovery Grant over five years from the Natural Sciences and Engineering Research Council of Canada (NSERC) to examine cell proteins and structures and how they contribute to diseases like cystic fibrosis and Alzheimer's.
Continue reading at University of Windsor.
Photo via University of Windsor.