Geography PhD creates virtual environment for coastal planning project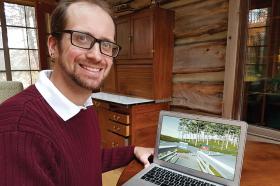 What if you could experience the beauty of Sidney Spit (at the northern tip of Sidney Island) without leaving your home? Robert Newell has applied cutting-edge technology to develop a virtual reality experience that takes visitors on a tour of the park, over land and underwater, using visualization tools.
"Geographic visualization helps us see and interact with our environment in a virtual way," says Newell, who graduates from UVic this month with a PhD in geography.
"By using GIS (geographic information systems) mapping technology and video game development software, I developed an immersive experience of Sidney Spit."
Newell is passionate about coastal planning and says geovisualization is a promising tool for engaging the public and decision-makers when it comes to parks and urban development.
Continue reading at University of Victoria.
Photo via University of Victoria.