Climate change, sparse policies endanger right whale population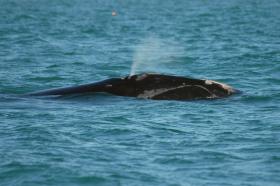 North Atlantic right whales – a highly endangered species making modest population gains in the past decade – may be imperiled by warming waters and insufficient international protection, according to a new Cornell analysis published online in Global Change Biology, Oct. 30.
"In the 1990s, right whale population growth slowed due to poor feeding conditions, low calving rates and high numbers of deaths due to ship strikes and fishing gear entanglement. But during the following decade in the 2000s, feeding conditions improved, and the whale population started to recover," said author Erin Meyer-Gutbrod, Ph.D. '16, who conducted the work as a doctoral student and postdoctoral researcher in the laboratory of Charles Greene, professor of oceanography and co-author on the paper.
North Atlantic right whales' preferred cuisine is copepods that thrive in cool waters, such as the Gulf of Maine, said Meyer-Gutbrod. Scientists once relied on continuous plankton sampling to track the copepods, but the National Oceanic and Atmospheric Administrations' National Marine Fisheries Service discontinued the program, preventing researchers from observing ecosystem changes as they occur.
Read more at Cornell University
Photo Credit: NOAA