Southern Africa's Cheetah Population Much Smaller Than Believed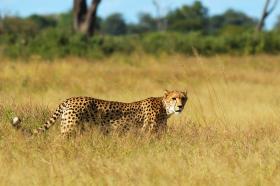 Populations of cheetahs in southern Africa have declined as farming and other human activities push deeper into the free-roaming cats' range, a new study co-led by Duke University doctoral student Varsha Vijay finds.
Fewer than 3,600 adult cheetahs remain in the region, which covers an area larger than France. A majority of the surviving cats -- 55 percent -- are found within only two habitats.
This new assessment is 11 percent lower than the International Union for Conservation of Nature's most recent population estimate in 2015, adding urgency to calls from scientists to uplist the cheetahs' conservation status from "vulnerable" to "endangered" in the IUCN's Red List.
Vijay and her colleagues published their findings Dec. 11 in the open-access journal PeerJ.
Read more at Duke University
Image: An adult male cheetah scans for prey in the tall grasses of Zimbabwe's Hwange National Park. (Credit: Stephanie Periquet)