Spotlight
Stricter Standards are Needed for Cruise Ship Sewage Treatment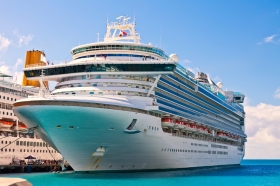 Cruise ships are no doubt engineering marvels that are meant to provide vacationers a luxurious and entertaining vacation. In 2012, there were approximately 200-300 active cruise ships, and with most of these ships operating 24 hours/day year-round, one can imagine all of the resources that go into daily operations. From the endless buffets and drinks available to staff making sure guests have access to clean drinking water and amenities, these floating cities are faced with some other hidden issues – one being what to do with all that sewage.
While operating cruise ships are required to discharge only treated wastewater within three miles of the shore, beyond that limit, pretty much anything goes in terms of sewage discharge. According to Friends of the Earth (FoE), the Environmental Protection Agency estimates an average cruise ship with 3,000 passengers and crew produces 21,000 gallons of sewage daily — and this is a conservative estimate, since some new ships can carry as many as 8,000 passengers and crew.
The organization notes that sewage pollution "can cause gastrointestinal diseases, diarrhea, hepatitis and other illnesses in people exposed through contaminated seafood or water. Fish, shellfish, coral reefs and other aquatic life can suffocate due to surplus nitrogen and phosphorous from ship sewage." And that's just the sewage: cruise ships also dump untreated "graywater" from showers, sinks and baths, which can contain many of the same pollutants.
Fortunately, not all cruise companies are quite like the others, and some appear to be making good faith efforts to improve their practices. FoE's 2013 Cruise Ship Report Card, which has just been posted online, gives Disney Cruise Line an environmental grade of A, judged on three criteria: sewage treatment technology; whether ships can plug into shore-based power and if they use cleaner fuel than required by U.S. and international law; and compliance with water quality regulations unilaterally established by the State of Alaska to protect the coast of the Last Frontier.
According to FoE's Marcie Keever, the progress shown by some cruise lines such as Disney is good news, but stricter government regulations are needed to push the industry as a whole into action.
Keever commented, "We're encouraged that some cruise lines are taking incremental steps to improve their performance, but the entire industry must stop hiding behind weak regulations and take action to make sure the oceans remain as clean as in the photos in cruise brochures. But we also need the EPA to adopt tougher treatment standards to protect our oceans and coasts from the waste of these floating cities."
Continue reading at Discovery News.
Cruise ship image via Shutterstock.