U.S. EPA announces Palos Verdes Shelf proposed environmental protection plan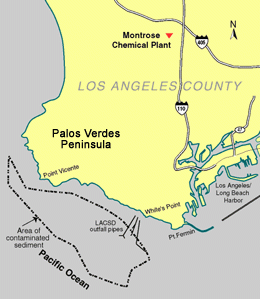 The U.S. Environmental Protection Agency will host public meetings and accept public comments on its proposed Preferred Alternative plan that addresses the risks to human health and the environment at the Palos Verdes Shelf, located near Los Angeles, Calif.

The Palos Verdes Shelf site is a large area of DDT- and PCB-contaminated sediment located in the ocean off the coast of the Palos Verdes peninsula south of Los Angeles. The offshore site stretches from Point Fermin in the southeast to Redondo Canyon. 
From 1947 to 1983, Montrose Chemical Corporation manufactured DDT at its plant near Torrance, California. The plant discharged wastewater containing the now-banned pesticide into Los Angeles sewers that emptied into the Pacific Ocean off White Point on the Palos Verdes Shelf (PVS). The DDT manufacturing process also resulted in groundwater and surface soil contamination on and near the Montrose plant property.
It is estimated that over 1,700 tons of DDT were discharged between the late 1950s and the early 1970s. Several other industries also discharged PCBs into the Los Angeles sewer system that ended up on the PVS by way of outfall pipes. The PVS site is defined by the large area of DDT- and PCB-contaminated sediment on the ocean floor in the vicinity of the Palos Verdes peninsula, near Los Angeles, California.
High levels of DDT and PCBs continue to threaten the Palos Verdes Shelf marine environment. DDT and PCBs move from contaminated sediments into the water. They also enter the food chain through worms and microorganisms, which may be consumed by other marine life. DDT and PCBs accumulate in fish tissue, then harming fish-eating birds, marine mammals, and birds of prey that feed on both.
For people, eating DDT- and PCB-contaminated fish can increase cancer risks, harm the liver, and affect the central nervous system. Nursing infants whose mothers regularly consume the fish are also at high risk.
Historically, the waters of the Palos Verdes Shelf have been used extensively by both sport and commercial fishers. Sport anglers fish from boats and beaches in the area. The waters are also used for swimming, windsurfing, surfing, scuba diving, snorkeling and shellfishing.
The EPA will host several public meetings to explain the plan:
· Tuesday June 23
San Pedro, Calif.
· Wednesday, June 24
Wilmington, Calif
· Thursday, June 25
Palos Verdes Library
For more information: http://www.epa.gov/region09/superfund/pvshelf/