EPA Encourages All to Vote in the Rachel Carson Contest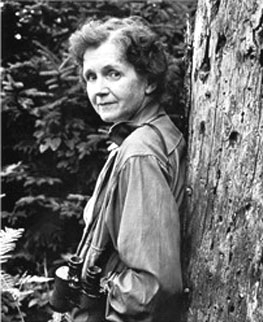 Rachel Carson is widely considered the founder of the modern environmental movement. Through her book, "Silent Spring," she opened the public's eyes to the damages caused by the pesticide DDT. From that point on, society realized they have a much greater influence on the environment than previously thought. Borrowing the title from another one of her books, "The Sense of Wonder," the US Environmental Protection Agency (EPA), is holding its fourth annual Rachel Carson Sense of Wonder Contest.
The EPA is asking citizens to vote for their favorite entries from five separate categories which include photography, essay, poetry, dance, and mixed media. A panel of judges has pre-selected the finalists for each category based on creativity, originality, and the ability to capture a sense of wonder for the environment. The judges also selected entries which incorporate an inter-generational team in their production.
The contest is meant to help bring forth the spirit felt by environmentalists like Rachel Carson. The entries selected by the judges "best express the 'Sense of Wonder' that you feel when observing the sea, the night sky, forests, birds, wildlife, and all that is beautiful to your eyes."
For example, one of the entries is a sentimental photograph of a father and daughter together in a backyard vegetable garden. Another entry is a moving poem about the sounds of the forest. Another is an essay written by young woman and her grandmother about their favorite tree near their house in Vermont.
The contest is a fitting tribute to the legacy of Rachel Carson, without whom, the EPA might not exist today. It is sponsored by the EPA in partnership with Generations United, the Rachel Carson Council Inc., and the Liz Lerman Dance Exchange.
The voting deadline for the public is November 1, and the winners will be announced later in that month. Those winners will be featured on the EPA website and receive a certificate for their accomplishment.
To check out the contest finalists and place your vote, go to: http://yosemite.epa.gov/oa/agingepa/rcvote.nsf/fmVote?OpenForm