New Izzitgreen Back to School selections for ENN readers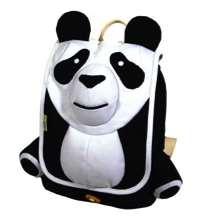 ENN affiliate Izzitgreen has selected these offerings specially for ENN readers. Izzitgreen is a blog that helps you stay informed about the latest, coolest, most innovative green products available. A portion of the proceeds from the sales of these items through ENN will go to "e"inc.
It's that time of year when students of all ages head back to the classroom. To help students do everything from staying organized to getting their lunches, books, and other supplies to their temples of learning in an eco-sustainable way, our partner IzzitGreen has found a couple of cool, environmentally friendly products to chose from this fall.
Ecozoo Organic Backpack (see photo)

Designed for kids heading off to school for the first time, the versatile Ecozoo Organic Backpack is a neat functional backpack disguised as an adorable toy. It will easily hold any preschool item and do so in a backpack that has an adorable eco-friendly animal design. Made with organic cotton canvas the Ecozoo Organic Backpack is durable, machine washable, and extremely lightweight. The dyes used are non-toxic; the wood accents are sustainable; and any plastic contained has been recycled. Pick between an Elephant, Panda, Pig, or Puppy. Click on http://izzitgreen.com/ecozoo-organic-backpack.html to see a further description.
The Laptop Bento Lunchbox
For students that are beyond Preschool, The Laptop Bento Box is a great choice for replacing the endless supply of paper bags needed on a daily basis for school lunches. A take-off on a childhood classic this updated lunchbox offers many great features such as removable compartments, 3 sealable lids; a dip container for sauces, and dips. Like an all-in-one survival kit it comes equipped with inner containers, utensils, and a book of healthy lunch ideas and recipes. Everything is reusable, and recyclable. Made in California using plastics (polypropylene and polyethylene) that are FDA-approved for food use, there are no binding agents or plasticizers used in the manufacturing process. None of the materials used are suspected carcinogens or endocrine disrupters. They are also lead-free, microwave and dishwasher safe. Click here for further information, http://izzitgreen.com/bento-laptop-lunchbox-set.html .
Voltaic Solar BackPack
This versatile Backpack is the perfect eco-friendly choice for older students with a bunch of gadgets to help them carry everything they could possibly need. It is solar powered, so as you carry your water, lunch, books, and supplies, you can also use the solar pack's pockets and wire channels to keep your devices (any kind of cell or smart phone) charged while you're on the go between classes. The Voltaic Solar Backpack is lightweight and is also ideal for outdoor activities such as field trips, hiking or camping. It's a green option that conserves energy by giving you a smarter alternative for recharging your everyday devices. Click on http://izzitgreen.com/solar-daypack-by-voltaic.html for more info.
Elephant Poo Poo Paper Journal - Bark Two-Tone
It would be difficult to get more organic the Elephant Poo Poo Paper Journal. Yes, this eco-friendly item uses paper made from recycled elephant waste fibers. The cover is both durable and with its two toned design, it is extremely stylish. The plain recycled paper is Acid and Lignin free. The journal measures 8 x 7 x 3/4 " and it comes with a very nice complimentary informational pamphlet on elephants and the making of the Poo Poo Paper Journal. Click on http://izzitgreen.com/elephant-poo-poo-paper-journal.html for more information.
"e"inc
As part of our efforts to help educate all youngsters, and through them hopefully their parents, Izzit will donate a portion of our proceeds from August 27th to September 6th, 2010 to help the non profit "e"inc. continue its mission of bringing environmental learning right into the classroom. To learn more about "e"inc. please click on the following link, http://www.e-action.us/ .