Great Marine Protection Areas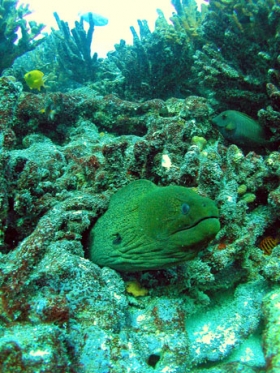 The Pacific Island nation of Kiribati has established the world's largest marine protected area of coral reefs and fish populations, but both of which are threatened by overfishing and climate change. The Phoenix Islands Protected Area conserves one of the world's last intact coral reef archipelago ecosystems with eight coral reefs, two submerged reef systems and underwater mountains, over 415,000 square kilometers of nearly uninhabited islands with abundant marine and bird life. A Marine Protected Area (MPA) is a protected area whose boundaries include some area of ocean. "MPA" is often used as an umbrella term that describes a wide range of marine areas that restrict human activity to protect living, non-living, cultural, and/or historic resources. Protections in various areas range from limits on development, fishing gear types, fishing seasons, catch limits, moorings, to complete bans on removing marine life of any kind.
MPAs are established to protect a certain species, to benefit fisheries, rare habitat, or nursing grounds for fish or to protect entire ecosystems. MPAs are also established to protect historical sites such as shipwrecks and cultural sites such as aboriginal fishing grounds. MPAs can be very large (such as the Great Barrier Reef) or very small (such as the Area Marina Protetta Capo Rizzuto).
Typical restrictions in MPAs include ones on fishing, oil and gas mining and tourism. Other restrictions may limit the use of ultrasonic devices like sonar (which may confuse cetaceans), development, construction and the like. 
The degree to which environmental regulations affect shipping varies according to whether MPAs are located in territorial waters, exclusive economic zones, or high seas. The law of the sea regulates these limits.
The Phoenix Islands are a group of eight atolls and two submerged coral reefs, lying in the central Pacific Ocean east of the Gilbert Islands and west of the Line Islands. They are a part of the Republic of Kiribati. This nation is small and relatively poor. Kiribati is expected to be the first country in which all land territory disappears due to global climate change.
Using new boundaries, Kiribati has almost doubled the size of the Phoenix Island protected area since 2008: "Kiribati has taken an inspirational step in increasing the size of PIPA well beyond the original eight atolls and globally important seabird, fish and coral reef communities," said Greg Stone, the New England Aquarium (NEAQ) vice-president of global marine programs. "The new boundary includes extensive sea mount and deep sea habitat, tuna spawning grounds, and as yet unsurveyed submerged reef systems."
The Phoenix Islands area is pristine and an important migration route for marine and bird life. Three NEAQ research expeditions since 2000 have found 120 species of coral and 520 species of fish, some new to science. It also has some of the most important sea bird nesting sites in the Pacific Ocean.
In the case of Kiribati, and most nations that set aside marine areas for conservation, they are restricting commercial fishing while allowing subsistence fishing (Kanton Island is the only inhabited island in the chain, with ~30 people) and sustainable development. As they are giving up the revenue that could be accrued if they did not give protected status, an endowment system has been set up by Conservation International and the New England Aquarium (NEAQ) to both manage the area and compensate the people and government for any losses.
There are many other MPA's and plans for such around the world. Some include:
American Samoa - 20% of reefs to be protected by 2010.
South Australia - 19 Marine Protected Areas by 2010.
Bahamas - 20% of the marine ecosystem protected for fishery replenishment by 2010.
Chile - 10% of marine areas by 2010.
Micronesia - 30% of shoreline ecosystems by 2020.
Fiji - 30% of reefs by 2015.
Germany - 38% of water managed by the Marine Protected network. (no set date)
Grenada - 25% of nearby marine resources by 2020.
Guam - 30% of nearby marine ecosystem by 2020.
Jamaica - 20% of marine habitats by 2020.
Marshal Islands - 30% of nearby marine ecosystem by 2020.
New Zealand - 20% of marine environment by 2010.
Palau - 30% of nearby marine ecosystem by 2020.
Senegal - Creation of MPA network. (no set date)
Tanzania - 10% of marine area by 2010.
USA – California 29 with MPAs covering 18% of state marine area.
For further information: http://www.environmentalgraffiti.com/news-phoenix-island-protected-area-pipa-largest-marine-protected-area-world