"Get to Know" Contest for Youth Open until November 30th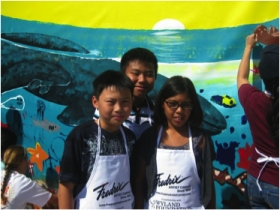 Scientists have so far identified over 2 million species on planet Earth – yet American youth are less familiar than ever with plants and animals living in their own "backyard". To reverse this trend, the Get to Know Contest is challenging young Americans (age 5-18) to get outside today and "get to know" the amazing and diverse wild neighbors who share our ecosystems. Art, writing, photos and videos inspired by first-hand experience with our wild neighbours can be submitted at www.gettoknow.ca until November 30th, 2010.
In honor of 2010 International Year of Biodiversity, the theme for art, writing and photography categories is "Celebrating Biodiversity". The all-new video category celebrates the upcoming 2011 International Year of Forests with a theme "This is My Forest". Winners will get exciting prizes, including a week-long Art & Nature Camp experience at the Pacific Rim National Park in Canada for those 12 and older. More than just a creative arts competition, the contest aims to draw youth into nature, so the prizes are first of all an incentive for youth to take the first step out of doors. Contest organizers are encouraging all youth to "get to know" their wild neighbors today and spread the word to their friends, since there are less than ten days left to enter.
The Get to Know Contest came to California in 2009, thanks to collaboration between its Canadian creator, wildlife artist Robert Bateman, and California marine artist Wyland. Last year's winners and their parents are now joining Bateman and Wyland in encouraging more youth to enter the contest this November. Angela Nugent suggested the Get to Know Contest to her children Todd and Tiffany when one evening she saw them both surfing the internet, oblivious to the world outside. "I forwarded them the link", she says. The siblings went on a nature walk to take more photos, although it was 13-year old Todd's photo from a family trip to Hawaii that eventually won. "I was looking at my kids just being connected electronically, and to see them come alive… was just amazing", says Angela, "Their interest [in nature] has not just peaked but flourished".
Photo shows last year's Get to Know Contest winners Brandon Thai, Lap Nguyen and Michelle Gutierrez pose in front of a marine mural created by Wyland and youth during the 2010 launch event in Long Beach.
2009 writing winner Michelle Gutierrez, age 11, found inspiration during a bird watching hike: "I saw at least six different birds that are found in the San Bernardino Mountains". Michelle explains how the Get to Know Contest has increased her interest in nature: "I definitely spend more time outdoors now. I like to go hiking, I've been to the zoo to observe all the animals, and just recently I went to the Long Beach Aquarium of the Pacific where I got to pet some friendly bat rays, and even had a brightly colored Lorikeet perch on my arm. The message I would give to my peers is, "Everyone should go outside in the fresh air and enjoy all the beautiful plants and animals. You're really missing out if you don't".
If you live in the United States and are between 5 and 19 years old, go outdoors today and get to know who shares our planet. Art, writing, photos and videos can be entered until November 30 at www.gettoknow.ca