ENN Community Launches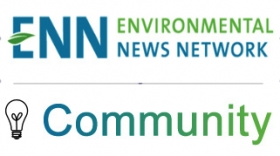 Great news today!
We've launched a brand new community for ENN! This feature brings a whole new dimension to our site by creating a vibrant space for our readers and environmental enthusiasts to interact with each other and weigh in with YOUR opinions about topics related to our news articles. That's right, it's your turn at the mic! Time to jump in and start sharing.
We are really excited to have you all begin posting your thoughts and tips -- you can start by rating your favorite environment topics, and then begin to share tips and reviews as well. You can also check out the latest reviews from fellow readers to share your comments and compliments. There are lots of ways to get the most out of our new community -- take a few polls and see some of the badges that you can unlock, too.

Have fun checking out the newest part of ENN and thanks for helping us kick off a thriving reader community!
To get started: http://community.enn.com/Environment_More-670-1-1.html