Court Gives Endangered Status Back to West Virginia Northern Flying Squirrel, Rules That Recovery Plans Must Be Followed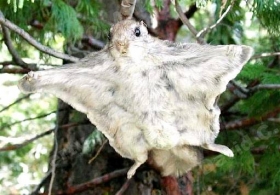 WASHINGTON— A federal judge reinstated endangered status for the West Virginia northern flying squirrel late Friday, holding that the U.S. Fish and Wildlife Service had violated the Endangered Species Act by not following its own recovery plan for the species in its decision to remove protection for the rare animal. The ruling — made in response to a 2009 lawsuit by the Center for Biological Diversity, Friends of Blackwater, the Wilderness Society, Heartwood, the Southern Appalachian Forest Coalition and WildSouth — has broad implications for all threatened and endangered species.
"This decision affirms that the scientific criteria in recovery plans for endangered species can't be ignored in a delisting decision or revised by the Fish and Wildlife Service without public input," said Bethany Cotton, an attorney with the Center. "Recovery plans are valuable tools for making sure species have really recovered before Endangered Species Act protections are taken away from them."
Recovery plans lay out science-based criteria, developed by teams specifically expert on the species and habitat in question, that measure whether a species' endangered status should be changed. The overturned rule that removed the flying squirrel's protection acknowledged that not all recovery plan criteria had been met.
Ruling that recovery plans must be followed in any agency decision to downlist or delist a species from the Endangered Species Act, the court wrote that it was not persuaded that "the agency's decision to meet only the 'intent' of its Recovery Plan criteria for the Squirrel complied with the ESA. The statute unambiguously requires that criteria must be 'objective' and 'measurable.'" The court also held that revisions to recovery plans are subject to public notice and comment rulemaking.
Article continues: http://www.biologicaldiversity.org/news/press_releases/2011/west-virginia-northern-flying-squirrel-03-28-2011.html